The Quick Release System (QRS) is a total new design in ski tie down removal. I have seen multiple designs over the years including; stainless ski-clamp units that were a good idea but very costly, plus involved drilling into your trailer, large composite cam lock systems that were also a good idea but again too pricey and bulky. The reason these companies are making these products is to make it easier and faster to load and unload our favorite toys. The design of the QRS has the same intention but with simplicity and cost reduction in mind. It is simply a quick untwist-tilt removal product. With a slide on tilt-twist to tighten application.
If you have a tilt bed trailer this is the tie down you've been looking for. No more having to thread the entire tie-down bolt through your trailer bed everytime you load and unload those sleds! Just leave the threaded rod in place once installed and forget about it! For those of you with Floe® trailers or any type with quick remove bolts , we also offer the option to own the Quick Release Knob only. However, holes will need to be drilled into the existing threaded rod to accomodate a hitch pin clip.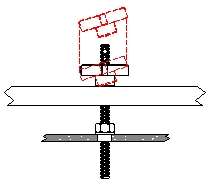 To install, thread the 7" threaded rod through the flat & lock washer into your existing trailer decking nut. Place the ski tie-down bar over the skis and threaded rod. Clean and attach VHB Tape to top of tie-down bar with drilled lanyard hole facing outward and let cure. Tilt the quick release knob over the screw and slide it down the bolt until you hit the tie-down. Then tilt the knob downward to lock the threads. Turn the handle unit clockwise until tightened. Experiment to find out how much thread to have exposed when fully tighted. For your convenience and to insure the knob does not come loose, we drilled 5 small holes in the threaded rod to fit a hitch pin clip (included). Twist the knob past the desired hole then push the hitch pin in place above the knob. The uppermost hole in the threaded rod is there to put a lock on for security purposes or to put in a small phillips screwdriver to install the rod into the existing trailer tie-down bolt hole. Use the included hex nut, lock washer and flat washer to tighten and keep the threaded rod in place.
(2) sizes available - 1/2" & 3/4" depending on the size of the existing trailer tie-down bolt hole.


Price (MSRP $US):
1/2" QRS - $20.00 ea.1
3/4" QRS - $29.00 ea.1
1/2" Quick Release Knob Only - $10.00 ea.1
3/4" Quick Release Knob Only - $15.00 ea.1
Full-Line of Quick Release Knobs & Pricing...Standard & Metric
QRKnobs.pdf (347KB)
To download, "right click" and select; Save Target As...
1Shipping will be billed at actual cost.

---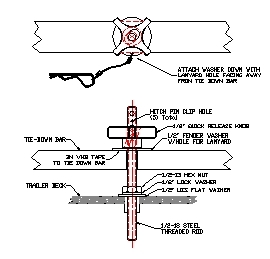 Above; 1/2" Bolt tie-down application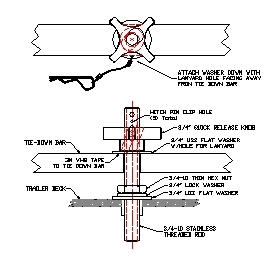 Above; 3/4" Bolt tie-down application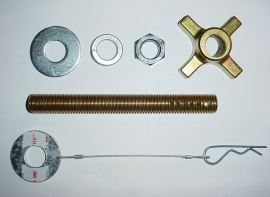 Includes:
3/4" Steel Quick Release Knob - Zinc Plated
or
1/2" Steel Quick Release Knob - 316L Stainless Steel Coated with Clearcoat

Steel 7" Threaded Rod with (1) security/
install hole & (5) locking holes- Zinc Plated

Hitch Pin Clip - Zinc

Thin Hex Nut - Zinc

Lock Washer - Zinc

(2) Large Flat Washers - Zinc

Stainless Steel Nylon coated Cable from Flat Washer to Hitch Pin Clip

3M VHB Tape attached to back of upper flat washer to be attached to existing tie down bar for use with the lanyard & Pin Clip. (This tape will cure in 8 hrs and will be as strong as a weld or rivet if surface is properly cleaned prior to installation.)

(2) Isopropyl Alcohol Pads to clean tie-down bar for VHB tape attachment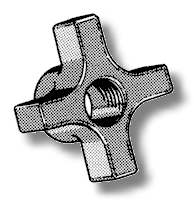 Quick Release Knob